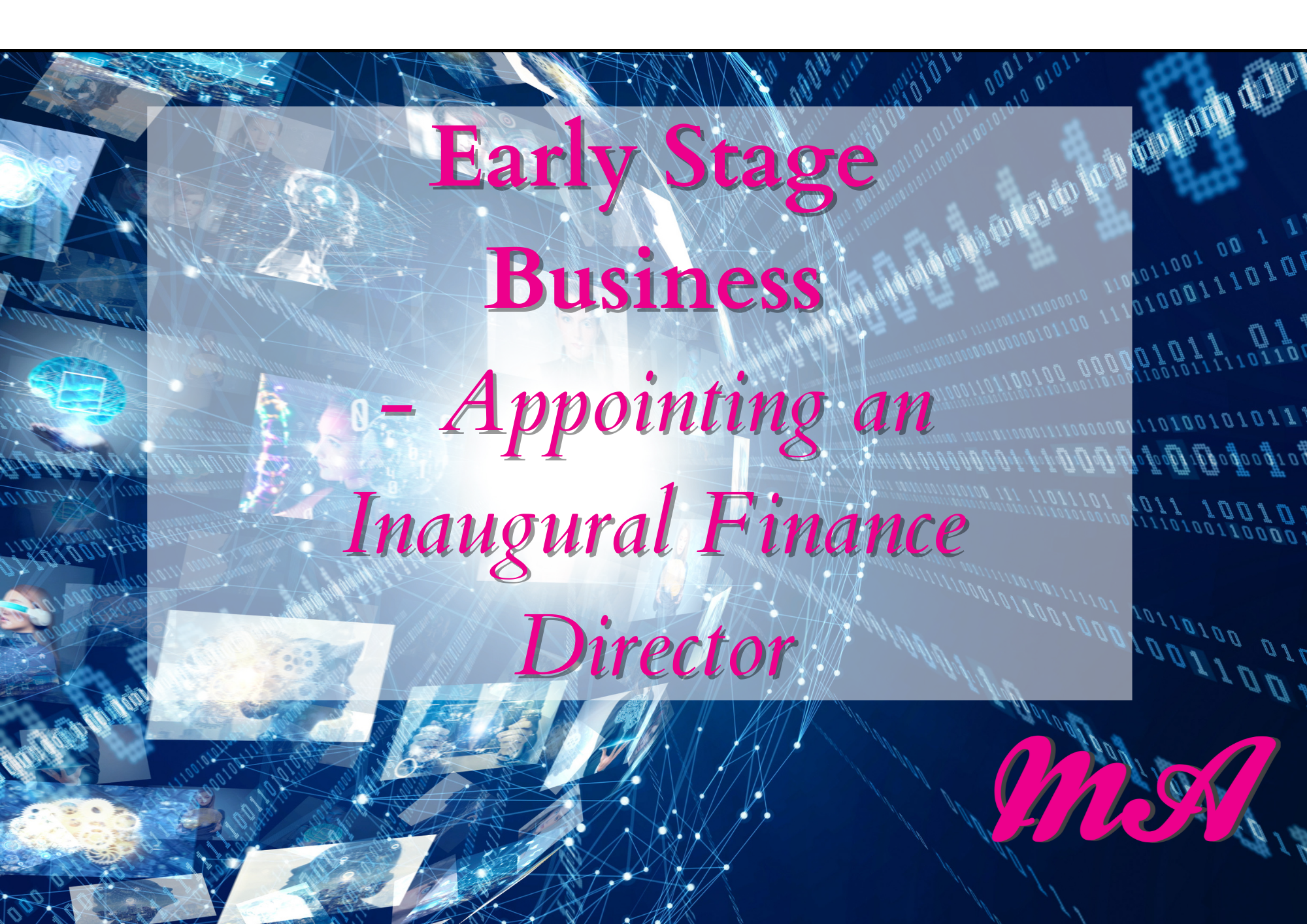 19 Oct

Early Stage Business – When Is the Right Time to Appoint an Inaugural Finance Director?

For most early stage businesses, a full-time Finance Director is a prohibitively expensive resource to consider. Often in the early days, the founding directors handle the strategic financial challenges, and an external accounting firm (and possibly a office manager) keeps Companies House and HMRC happy as well as getting the invoices issued and the bills paid.

Nevertheless, the business will eventually outgrow these accounting arrangements and will need a deeper more experienced financial perspective – particularly if a business is ambitious and wishes to scale and grow. What tangible benefits and value can an experienced Finance Director add? Why is a start-up/early stage Finance Director different? When and why would you need one? Should you go for a full-time resource or interim/part-time? Let's explore and expand on these themes further.

When is the right time to appoint a start-up Finance Director?
The point at which this need arises will vary from business to business but, the question a founding entrepreneur should ask themselves is not "how long can I cope without an Finance Director?" but "how quickly could I benefit from the involvement of a Finance Director in my business?"

In reality, however, most entrepreneurs seek the services of an Finance Director because they have hit one of the following problems and/or challenges.

Lack of strategic financial management skill
How much financial management skill do you have and how much time can you afford to spend on this? Even if you are accounting and finance literate, every moment you spend on the finances is a moment you can't spend doing what you do best – growing the business.

Poor cashflow
Managing cash flow during the pre-revenue and early-revenue generating years is often easier said than done, and poor cash flow management can quickly bring a business to its knees – even a profitable one!

A start-up FD will create a cash flow management strategy to enable the business to accurately appraise the cost of business spend and the impact in the broader organisation. Cash flow management is not only about when the money runs out.

Having said all that, even the best cash management strategy cannot always prevent cash running out and a good start-up FD can draw on previous experiences to manage priorities and put appropriate measures in place, to ensure the cash runway is as long as possible.

Inadequate management reporting
A key challenge for a fast-growing company is to structure the chart of accounts in such a way as to generate meaningful management information not only now but also in one, two and three years' time. Trying to unpick a year's worth of transactions and reshape them to provide new information is a painful process.

A start-up FD will:

• Understand what is relevant information for the business to have at its fingertips now
• Know what information will be critical in one, two and three years.
• Be able to structure the finance process, so the required information is readily available and straightforward to create

The business needs investment
This is the most significant value add a FD can bring. One of the major challenges that founders encounter is that raising a round of capital funding is both challenging and often takes more time than they expected. Convincing lenders to invest thousands, and potentially millions of pounds into their company is not a simple task. Fundraising can be exhausting and unpredictable for many businesses. There are a number of fundamental inputs and outputs that require specific skills and capabilities to drive a successful fund raise, which I will briefly outline.

The responsibility of the FD is not just the fundraising itself – it is also about how you want to structure it. Do you want to raise equity, or debt? Do you want to bootstrap? What kind of capital structure is best for the company going forward? How much do you want to raise? Different amounts involve different investor universes. Having an experienced hand that is able to navigate and effectively deal with different investor types is a key success factor.

The FD should also possess the gravitas and credibility in being able to effectively present at a pitch and tell a good story. You want to have impressive data and key metrics to share, but these should always be used to paint a picture and show where the company is heading. In addition, there needs to be a convincing storyline in your slide deck. You need to be clear about your business model and your timeline, and you need to give certainty about where you are heading.

One of the key outputs an experienced FD brings to provide this certainty is to make sure you have the right data – and quality over quantity is key! The type of data used depends on where you are on your growth journey. If you are in an early stage with seed funding or series A, your pitch should be about the idea and the management team. Those are the key value drivers. Once you move into series B, it is all about financial metrics. Key KPIs, revenues, profitability and unit economics. The tricky part is deciding whether you are in series A or B, and deciding whether you want to focus on your KPIs or the idea itself. If you are going for the larger growth investors, you will need to get into the details and provide solid data sets. If not, you can focus on the idea and the team while approaching classical venture capital funds.

However, there are some basics to get right every time. The business model needs to be integrated into your financial actuals. If you structure your data so you can answer these questions, you will always be prepared.

It is also worth noting that potential lenders will take great comfort from an experienced hand steering the financial path and will always look on this favourably; sometimes access to a Finance Director is a pre-requisite.

A start-up FD will:

• Understand how a capital funding round works and more crucially have been through the process before.
• Can effectively assess the business and determine when it is ready to raise investment.
• Guide you as to the most appropriate type of funding.
• Take ownership of the data room.
• Prepare the appropriate financial information to be shared with potential investors before any raise.
• Prepare appropriate slide decks and follow up process.
• Possess strong communication and presentation skills and be adept at translating data into a compelling story.
• Be the point of contact for financial matters during due diligence.
• Liaise with investors post-investment. It is easy to underestimate how much time this will take.
• Manage the allocation of capital. Once the funds are in, the FD has to put a process in place to deal with requests and manage the allocation efficiently and fairly across the business.
• Ensure that the right systems, controls and processes are in place and aligned to a scalable business.

What does a start-up FD look like?
• Importantly, they are a qualified accountant who has experience of working with start-ups/early stage businesses. Essentially, they know that this stage of the company's evolution is different.
• They bring a wealth of experience from lessons learnt for company 'A' and apply to companies 'B' and 'C'.
• They bring a network of contacts, and the team of finance professionals to support them, if required.
• In public, they will support the CEO and the leadership team but have the confidence to privately test and challenge as a critical friend.
• They are inquisitive; only when they understand every part of the business can they assess what drives profitability.
• They can assess and manage the risks to the business, e.g. cybersecurity, Brexit, supply problems, customer issues, talent acquisition challenges, etc.
• They know the numbers; they can clearly articulate them in words that the audience (be it the CEO, stakeholder or investor) can understand.
• They will roll up their sleeves when required and perform any finance task within the finance function.
• They often play the 'bad cop' delivering bad news to staff, customers and suppliers allowing the founder or CEO to maintain their relationships.
• They know when there might be a problem. Expanding into new territories and markets, for example, brings unknowns and an experienced FD will have a sense of when to hold back, what the potential issues will be and when to take advice.
• They can be utilised on a part-time or interim basis to help build out the finance infrastructure/strategy and support commercial decision making.

Finding and appointing a start-up FD
If your business is going to leap from start-up to scale-up, you need the right resources and the right foundations to build on. Moreover, a big part of this is about creating a viable business model that has the efficiencies, financing and the systemised processes needed to scale.

MA Executive specialises in delivering high quality search solutions for both permanent and interim requirements, servicing the strategic hiring needs for high growth PE & VC backed businesses. We are experts in providing strategic hiring advice and services to high growth SME's at various stages of the funding cycle – seed, venture or growth. We understand explicitly the challenges posed to both fledgling and mature businesses when building out their executive teams and are skilled in attracting and presenting choices aligned to their strategic goals.

We work with and support a number of businesses in a variety of vertical markets that have developed new and unique IP, proprietary/novel technology, products and services. Recent assignments have seen us support businesses in SaaS, FinTech, renewable energy, engineering and consumables.

If you wish to appoint your first Finance Director permanently, or are considering an interim or part-time option, MA Executive have the expertise and network to support your requirements.